SHOP AND EARN BONUS POINTS!
You Hold the Key
As a Nissan One To One Rewards member, you receive credit for every dollar spent on parts and service at our dealership. Just like your Nissan vehicle is important to you, your business is important to us. To that end, we strive to provide the highest quality Nissan service and parts.
At Gardena Nissan
We use genuine Nissan parts. Every technician is continually training on past, present and new models. We also feature the latest state-of-the-art equipment, which ensures we are making the right repair, right the first time and right on time. We will honor any local Nissan dealers' advertised specials.
No Cost
The One to One Rewards program card costs you nothing at Gardena Nissan. It is our way of rewarding our best consumers.
Dealer Rewards
When you enroll in this program, we will preload your One to One Rewards card with sales and service points. And every time you have a consumer-pay transaction at Gardena Nissan, you will earn a percentage of your purchase back on your card.
Sky's the Limit
As a Gardena Nissan One to One Rewards Member, you earn a generous reward on all consumer-pay purchases (pretax) in our service, parts, and collision repair departments.
You can use your purchase points to pay for your next dealership visit or let them accumulate.
Thank You
The One to One Rewards program card here at Gardena Nissan is our way of saying thank you for being a loyal member of our automotive family. We value your business!
One to One Rewards points or dollars cannot be redeemed for cash. The One to One Rewards program reserves the right to cancel or modify the program at any time.

Rewards+Plus allows you to shop over 300 leading retailers online only where each purchase earns you bonus points that can only be used at your Nissan dealership.
Earning more points for your next dealership visit is easy as 1-2-3
Log in at www.NissanOneToOneRewards.com
Click on the "Rewards+Plus button
View all discounts and special offers and START SHOPPING! Your points will automatically post to your account 30-45 days from shipment of your online purchase. It really is that easy!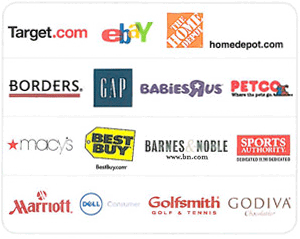 Check the One to One Rewards program web site regularly for exciting discounts and bonus point offers!
One to One Rewards program members can easily view and track all retailer bonus points on the Transaction History page on the One to One Rewards program web site.